How old are my car tyres? And tyres over 10 years old are now banned on buses, lorries and minibuses
Checking the age of your car or lorry tyres (or tires in the US) is essential for safety and could save you from breaking a new UK law restricting lorries, buses and minibuses from using tyres over 10 years old. Use the tyre age code to instantly check the age of your tyres right now.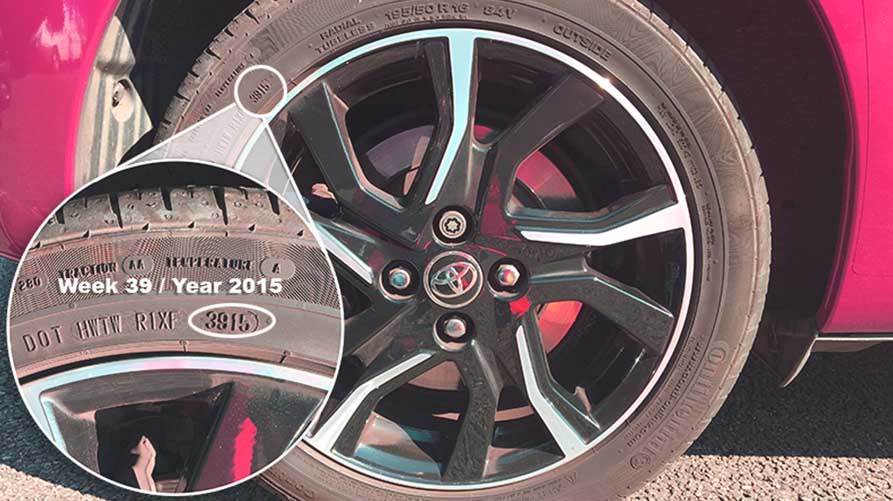 How to check the age of your tyres - Photo: Pete Barden
Driving on rubber that is past its sell-by date can be dangerous and even leave you open to prosecution in the event of an accident.
Here is our guide to finding out how old your car tyres are in just a few seconds.
What is the new law banning tyres over 10 years old on lorries, buses, coaches and minibuses?
From 1 February 2021, it became illegal to fit, or use, tyres on lorries, buses, coaches and minibuses that are over 10 years old.

The law states: It is illegal to fit tyres aged 10 years or older to the front steered axles of HGVs, buses and coaches, and all wheels of minibuses (9 to 16 passenger seats).

This will also apply to re-treaded tyres – with the date of re-treading to be marked – making the age of the tyre clearly visible.

This applies to all vehicles using roads in England, Scotland and Wales.

The DVSA's new regulations exempt non-commercial vehicles aged 40 years and older from these requirements.
How do I find out how old my tyres are?
All tyres – for cars and lorries – are required to display a DOT code, which provides all the information required to find out the exact age of your car's tyres.
The DOT code is found on the sidewall of the tyre and is typically made up of a three or four-digit number preceded by a collection of letters.
An example of a DOT code could look like this: DOT U2LL LMLR 5107 — with the final string of numerals revealing the age of the tyres.

Take a look at our graphic above to see how this is revealed.
Why does my code have just three numbers?
If your DOT code has just three numerals at the end, it more than likely means it's time to change your tyres.
Three numbers at the end of your DOT code means the tyre was manufactured before 2000 — when the extra numeral was added to reflect the arrival of the noughties.
For example, a code of 509 would mean the tyre was manufactured during week 50 of 1998, whereas 5018 would mean week 50 in 2018. it's that simple.
Tyres with a three-digit code should be replaced straight away.
My tyres are old but have loads of tread
Tyres might look safe and — with plenty of tread and no tears or bulges — but exposure to UV light over many years damages the rubber and causes it to oxidise and become brittle.
Brittle, sun-damaged rubber can develop small cracks — or break up and deflate under impact with the likes of potholes.
Is there a maximum age of tyres I can use on my car or truck?
There is no legal limit to the age of tyres that can be used on cars, but new legislation will mean tyres over 10 years old will be banned from the being fitted to the front steering axles of goods vehicles more than 3.5 tonnes, buses and coaches and minibuses unless the axle had twin tyres.

The new legislation banning tyres over 10 years old on large vehicles will come into force on 1 February, 2021.

However, it's important to check tyres regularly for signs of ageing such as cracks in the sidewalls. Any damage should see the tyres replaced instantly.
Make sure your new car comes with new rubber
Your new motor might just have rolled off the forecourt, but it could have emerged from the production line much earlier. Make sure the tyres are new when buying.
Additionally, look for the age of tyres on used motors, dealers could attempt to save cash by fitting rubber from the likes of part-exchange vehicles in an attempt to save money. Always make sure the tyres and numberplate age can be reconciled.
One AA man was checking over a nearly new car for a punter — only to find the '63-plate motor was actually fitted with rubber showing plenty of tread but a combined age of 64 years old!
Cars sitting around for long periods — on a forecourt, for example — don't get the movement needed to release the anti-oxidising chemicals that prevent rubber drying out and cracking.
What about the spare tyre?
Car tyres are likely to be replaced at regular intervals — due to regular wear and damage — but a spare tyre will often be the original article.
This could mean the spare is disproportionately old and could let you down when you need it most.
Check the date now and replace if it's more than six years old.
What about new tyres?
Again, make sure you get to check the manufacture date of tyres any new tyres you buy. Suppliers typically order tyres in when needed, but that does not mean your new rubber is 'new'.
The tyre industry is said to consider tyres to have a five-year shelf life — but that doesn't mean you have to agree with them.
Wholesalers often buy in bulk and stockpile rubber to get better prices, so make sure you get a product that really is new. New rubber is never cheap, so why pay full price for what could, in fact, be old-spec or age-damaged tyres.
Simply take your custom elsewhere if dealers attempt to fit overly mature tyres to your motor.
Be extra careful with caravans and motorhomes
Your caravan or motorhome might have cavernous amounts of tread, but with most of these vehicles covering just a few miles each year, the tyres could be a lot more elderly than you would imagine.
Ever wondered why you see so many caravans with blown tyres on the A303 as you head to Cornwall?
Are part-worn tyres okay?
The AA has revealed more than four million Brits buy part-worn tyres each year. These are old tyres that have previously been fitted to a vehicle and can cost from just £20. Selling and using them is legal, but it's especially important to check the age on these tyres, as it's likely they've been hanging around for long periods of time — often in direct sunlight.
Do not forget, anything over six years old is considered to be on the edge of being too old to use on the road - see below.
Will my car tyre explode in hot weather and heatwaves

Older tyres can create many dangers for drivers such as cracks and bulges, and extreme temperatures just make these problems even more likely to cause a blowout or other type of failure.

Hot weather increases the air pressure within a tyre, meaning an older tyre that may be suffering from cracks, bulging or brittle 'rubber' is at an increased risk of failure.

Make sure you check your tyre age before heading out for long journeys during hot weather and extreme heatwaves across the UK.

See your tyre manufacturer's website for advice on age limits, and remember that tyres over 10 years old are illegal on larger vehicles such as buses and horse boxes. Tyres are generally considered 'older' after five years. See below for more.

How old is too old for a tyre?
If tyres are in regular use — releasing the chemicals to fight oxidisation — experts suggest six years old is a good time to swap for new.
However, if your car or the tyres have been left standing for long periods without any movement, it'd be smart to get them inspected by experts before returning to the road.
Contact Pete Barden for SEO optimised content for your website and social channels.
Most read motoring content
Take a look at more of our top motoring-related content here...